MMM Autoparts Americas SA de CV Achieves ISO 14001 Certification
17th of July 2023
Silao, Guanajuato, Mexico
MMM Autoparts Americas SA de CV Achieves ISO 14001 Certification Following Successful Audit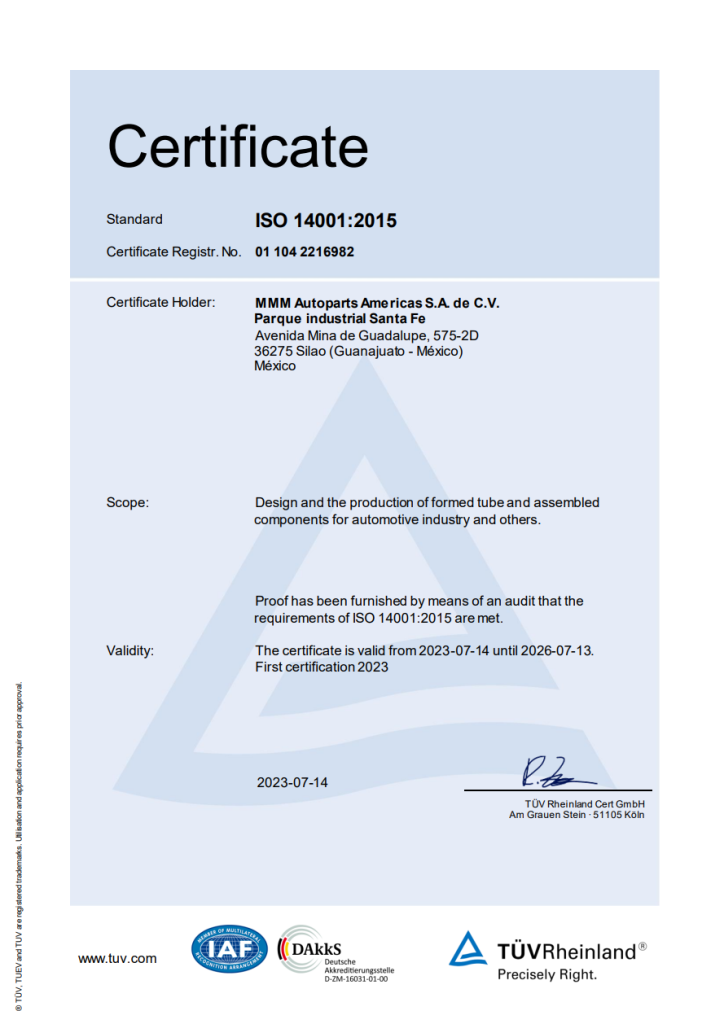 MMM Autoparts Americas SA de CV, part of the Spanish MMM Group, an international company with extensive experience in the design, development and manufacture of systems that integrate tubes for the automotive industry is pleased to announce that it has obtained the ISO 14001 certification, further demonstrating its commitment to environmental sustainability and responsible business practices.
ISO 14001 is an internationally recognized standard for Environmental Management Systems (EMS). The certification means that MMM Autoparts Americas SA de CV has implemented effective environmental management practices, ensuring the organization's compliance with environmental regulations, minimizing its environmental impact, and continuously improving its environmental performance.
To achieve the ISO 14001 certification, MMM Autoparts Americas SA de CV underwent a rigorous audit conducted by TUV Rheinland, an accredited certification body. The audit thoroughly assessed the company's environmental management system, including processes, procedures, and performance against the ISO 14001 standard's requirements.
MMM Autoparts Americas SA de CV 's successful attainment of ISO 14001 certification highlights its dedication to reducing its environmental footprint and fostering sustainability throughout its operations.
The certification recognizes the company's efforts to:
Identify and manage environmental risks and opportunities.
Establish and maintain environmental objectives and targets.
Implement measures to preserve resources and minimize waste generation.
Promote recycling and responsible waste management practices.
Enhance environmental awareness among employees and stakeholders.
Comply with applicable environmental laws and regulations.
Continuously improve environmental performance through regular monitoring and evaluation.
By achieving ISO 14001 certification, MMM Autoparts Americas SA de CV reaffirms its commitment to sustainable development, ensuring a greener future for both the company and the communities it serves. This certification further strengthens MMM Autoparts Americas SA de CV 's reputation as a responsible and environmentally conscious organization.
Also, the company aligns to the other business units' best practices and certifications standards as IATF 16949 and ISO 9001.
Ciprian-Andrei BORZA, the Plant General Manager of MMM Autoparts Americas SA de CV, expressed his satisfaction with the company's achievement, stating: "Through the collaborative efforts of our local team and with the support of our headquarters members, I'm happy to announce that the Mexican business unit of MMM Group is officially ISO 14001- certified. This accomplishment reflects our dedication to implement sustainable practices across all aspects of our business and aligning our operations with the highest international standards. We will continue to prioritize environmental responsibility as we strive to make a positive impact on our planet."